WSS4 UTV Track Kit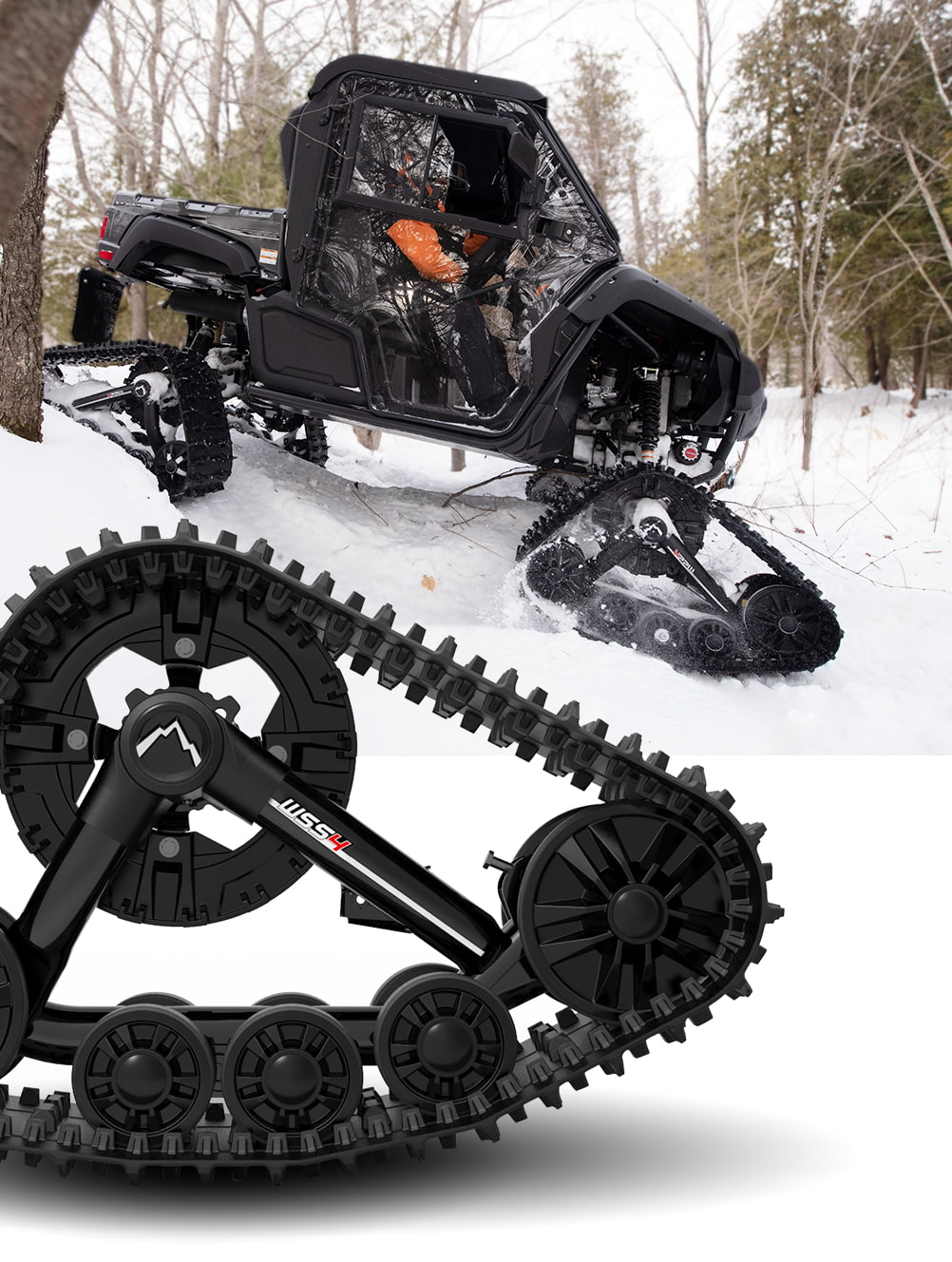 UTV | WORK & RECREATIONAL
REDEFINE AGILITY & CONTROL
---
You're driving your UTV and wish you could cross over this white snowbank alongside the path in the winter?   Stop limiting yourself; drive a WSS4 "Commander"!   No more boundaries, no more fear; the WSS4 will take you wherever you want with your friends or your equipment with an adrenaline bonus!   The well-thought out design and robust construction, combined with tracks designed for optimal traction, make the WSS4 "THE" UTV Kit for all seasons.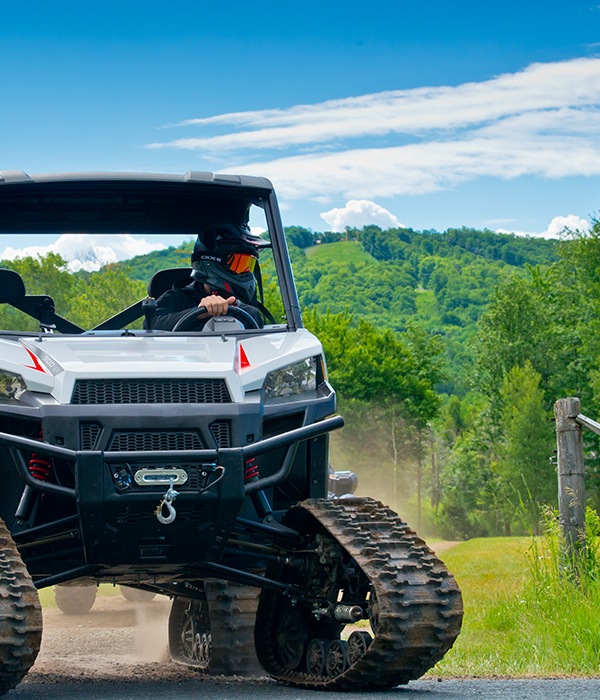 TECHNOLOGY
---
FREQUENT USES
---
MAPLE PRODUCERS
LUMBERJACKS
FARMERS
ELECTRICAL COMPANIES
HUNTERS AND FISHERMEN
SKI RESORTS
CONTRACTORS
EMERGENCY UNITS
ATV AND UTV ENTHUSIASTS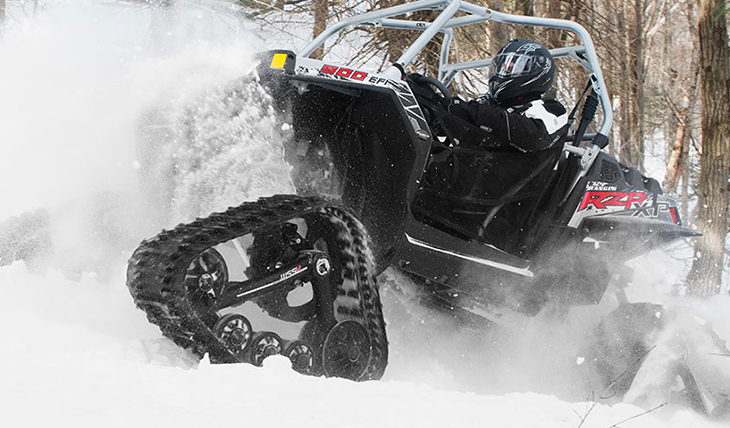 WSS4
Why choose Commander?
---
TRACTION IS SUPERIOR TO THAT OF THE COMPETITION
Center lug at every 3rd pitch on rear tracks
IINDUSTRY'S LIGHTEST TRACK KITS

HIGHEST GROUND CLEARANCE
A TRUE ALL SEASON ACCESSORY
Slide free system with double patented guide lugs
QUICK AND EASY TENSIONER
Adjusts in a few short seconds
LOWEST DRIVING EFFORT
Support wheels optimum position
NARROW IDLER WHEELS
Eliminates snow & ice accumulation which avoids excess stress on the track system
LOW MAINTENANCE COST
Double and interchangeable wheel bearing
TECHNICAL SPECIFICATIONS
---
Width
292 mm / 11.5" front, 330.2mm / 13" rear
Length
2460 mm / 97" front, 2970 mm / 117" rear
Weight (without mount kit)
91 lb. / 41 kg front, 112 lb. / 51 kg rear
Frame
Steel
Lug height
25 mm / 1" front, 33 mm / 1.3" rear
Drive type
Internal
A
Flotation surface
1.57 m² / 2430 in² = 0.65 m² / 1000 in² front & 0.92 m² / 1430 in² rear
B
Ground clearance
Increase of 145 mm / 5.5"
Speed loss
35%
C
Offset front
618 mm (24.3 in)
D
Offset rear
833 mm (32.8 in)
Initial installation time
3 hours
Subsequent installation time
1 hour
Applications
UTV only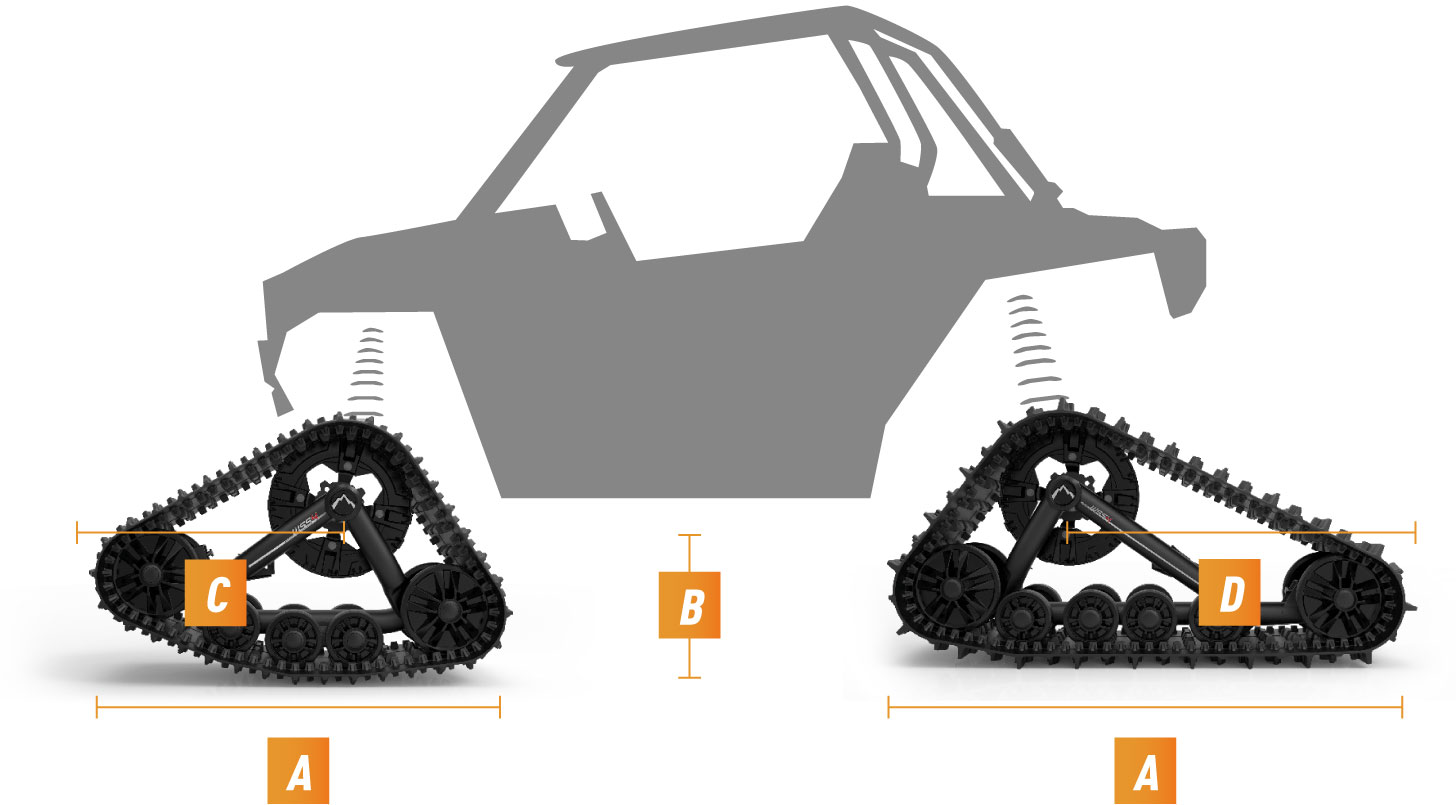 PERFORMANCE INDEX : TRACK KITS VS. TIRES
---
NON-RECOMMENDED
USE

OPTIMAL
USE
SNOW

DEEP

MODERATE

TRAIL

SPRING
NON-RECOMMENDED
USE

OPTIMAL
USE
OFF-SNOW

SWAMP

MUD

SAND

TRAIL

GRAVEL

ASPHALT