ATV Track Kits
CURRENT TRACK KITS |
ATV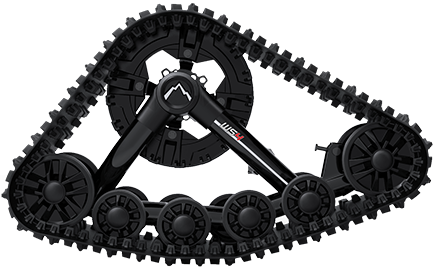 WS4
LESS EFFORT, BETTER COMFORT
---
The WS4 is the logical continuation of our "Commander" series, with reduced driving effort, decreased vibration and same traction capability as always for the best performance in all 4 seasons. Of course, the same sturdiness is maintained through a 2.5" tubular frame and an overall lightweight necessary to surf on snow.
WS4 L-RATIO
REDEFINE AGIILITY AND CONTROL
---
Transfer 15% more force with the 13 inch WS4 L-Ratio Commander sprocket. For those who see a track kit more as a working tool than a recreational accessory, here's the new Commander WS4 L-Ratio. Equipped with our new 13 inch sprocket, allowing more power to the track, the Commander WS4 L-Ratio will help you complete your hardest job while saving you time.